Real Organized Blog Planner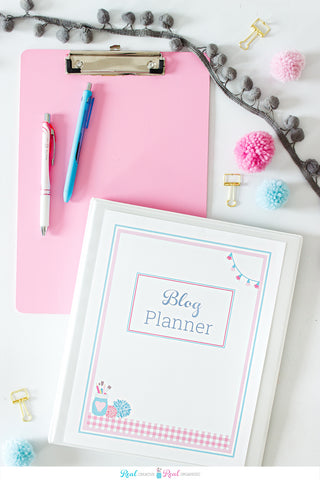 Want to take charge and grow your blog into a business? 
Experts agree that goal setting is the way to get there.
But as busy women, how do you stay focused on your goals throughout the year?
You stay focused by writing them down and keeping them in mind monthly, weekly, or more.
I designed the Real Organized Blog Planner to have everything you need and nothing you don't. It'll keep you focused on where you want to grow and your goals throughout the year.
I've been using this blog planner for a few years now and know it works. If you take the time to outline your goals and revisit them at least once a month, you'll be amazed at your progress throughout the year. 
It's how I've grown my blog into a business as well as grown my email list and social media following. By being intentional, deliberate, and consistent. 
This is a digital download product. You can find a printed version here. 
The Real Organized Blog Planner includes:
Cover
Yearly Goals - 2 pages.

Includes general goals section and a section for income and traffic goals.

Stats-At-A-Glance 

Track 1 year of growth for pageviews, email, and social.

Pitch Sheet

Handy sheet to write down your pitches for sponsored posts with agencies. That way, when you get the job, you can remember what you pitched.

Sponsor Tracker

Keep track of who hired you, how much they'll pay, when they'll pay, and who has paid.

Photo & Video Planner

Great photos and videos don't just happen. Visualize and plan them before you even start the post for the best result. Use this planner to jot down shot types, backdrops, props, etc. for your photos and videos.

Photo, Video & Post Shopping List

Use this sheet to figure out what you have and what you need for your photos, videos, & posts.

Monthly Goals - 12 pages

Break down your yearly goals and keep track as you move through the year.
Has a section for your top 3 goals for the month as well as for you to write down successes and lessons from the prior month.
Income and growth tracking section. 
Notes

Pages to jot down any notes.
See the full planner:
---
More from this collection