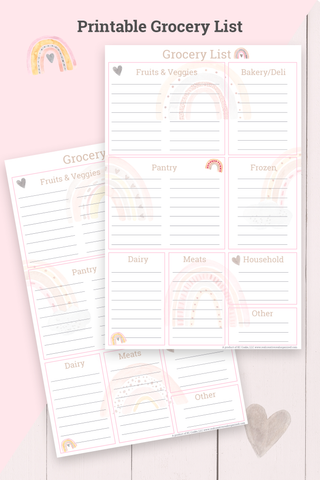 Use this cute rainbow printable grocery shopping list to keep you on track at the grocery store. Make your next trip to the grocery store organized, simple and fast by using a printable shopping list. It will keep you organized and on track and keep you from forgetting what you went to the store for in the first place.
The store sections organize the rainbow printable grocery shopping list to help you be efficient on your shopping trip. That will help you get in and get out of the store fast (and without forgetting anything).
 The rainbow grocery shopping list is a half sheet, which means you get 2 lists from 1 page of paper. The size is perfect for use in the store without sacrificing lines and space for your complete grocery list.
You can also use the store sections of the grocery list to make your shopping list quickly. In addition, the sections can help you easily scan different sections of your refrigerator or pantry to see what you need to add to your list to fill your fridge and pantry.
This printable shopping list is a digital download. You won't get any product in the mail. Instead, you'll get 1 pdf file containing your rainbow shopping list. You'll save it and be able to use it over and over. Just one fee, and you have printable grocery lists for as long as you'd like to use them.
Get your rainbow printable grocery shopping list today and make your next grocery shopping trip organized, easy and efficient.
---
More from this collection