My Little Pony Birthday Party Printable Pack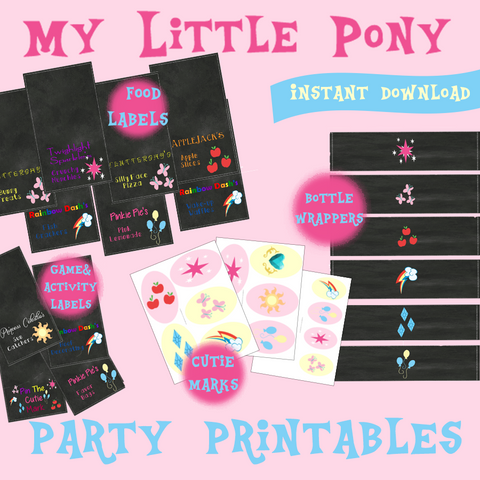 Printable My Little Pony Theme Birthday Party pack.
This My Little Pony party pack is the perfect way to make your My Little Pony Party quick, easy and super cute! Just purchase, print and you are ready to go!
Pack includes 6 My Little Pony cutie mark glass wrappers, 12 tent style labels for My Little Pony games, food, and activities, 8 large cutie marks and 4 small cutie marks.
Game, Food, and other My Little Pony party ideas listed on tent style labels include: Pin the Cutie Mark, Rainbow Dash's Fish Crackers, Rainbow Dash's Wake-Up Waffles, Princess Celestia's Sun Catchers, Fluttershy's Silly Face Pizza, Fluttershy's Bunny Treats, AppleJack's Apple Slices, Pinkie Pie's Pink Lemonade, Pinkie Pie's Favor Bags, Rainbow Dash's Hoof Decorating, Twilight Sparkle's Crunchy Munchies, and Princess Cadence's Crystals. You can see the full ideas for each of these on my blog (post listed below)
Currently, this is pre-filled and there is no customization. If you are interested in a customized pack with your activities, food, and games, please message me for pricing and availability.
You will receive an instant download of 4 PDF files. I recommend that you print all of this on cardstock with high-quality print and color ink.
---
More from this collection